Bidwell
Bob Church's first jump. 8/20/78. Mike Spurgeon is running out to see if he landed okay.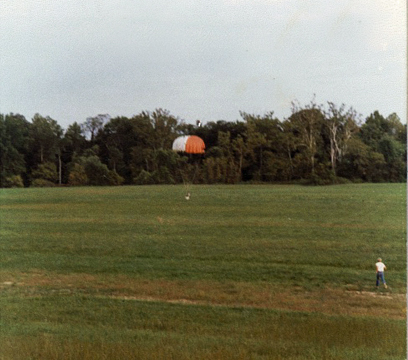 The following was submitted by Betse Barhorst OKeefe
The Dropzone was in Bidwell, Ohio (near Gallipolis, OH). It was a branch of the Greene County Sport Parachute Centers. Originally opened by Jim West of Xenia. Later it was owned by Danny Stone, then Steve Barhorst/Jim West. After a plane crash in 1977 which killed 5 people including Steve Barhorst as pilot, it was purchased by Andy Spurlock/Jan Dickerson/Jim West. Jumpers from this drop zone include the infamous Mike Spurgeon. Also Suzanne Brownlee-Pike, John Woody, Linda Walczak Kretzler, and Betse "Moon Pie" Barhorst.